About Checkpoints
Checkpoints magazine is the Association of Graduates' signature communications piece. From its humble beginnings as a black and white news print in 1965 to the award-winning publication you are reading today, the magazine has evolved into a visual showcase of USAFA. Yet despite its evolutionary track across the decades, this publication still seeks the same objective that it did at the time of its inception: to tell the Academy and Graduate stories.
Checkpoints is published in March, June, September and December and is filled with pages of information about graduates, cadets and the Academy. It is the only magazine of its kind for the Academy and is mailed to all members of the AOG.
The magazine is an award-winning publication, recognized by the Council for Advancement and Support of Education for excellence in college and university magazine publication.
Checkpoints Staff
Look for more information soon about the award-winning Checkpoints magazine and the excellent staff that puts it together. Tom Kroboth puts together your class news and obituaries, and has been with the AOG for over 40 years.
Executive Editor
Wyatt Hornsby, APR

Managing Editor
Jeff Holmquist

Creative Team
Geraldine Villanueva, Graphic Designer

Checkpoints Digital
Troy Surratt

Photographers/Videographers
Ryan Hall
David Bitton

Class News and Obituary Editor
Tom Kroboth

Writers
Steve Lincoln, Steve Simon '77, David Bitton, David Miles
Get Checkpoints
Join now to receive our magazine as a member benefit!
View previous editions of Checkpoints Online ...
Watch videos and browse photo galleries from featured articles ...
Send us your feedback, photos and favorite recipes ...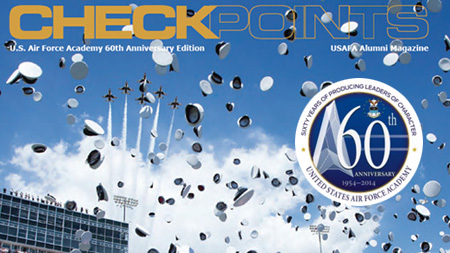 Read our special edition celebrating the Air Force Academy's 60th Anniversary ...
Become a member today and get Checkpoints digital four times a year!
Learn more about the award-winning Checkpoints magazine and the excellent staff that puts it together.
Get your company name and mission in front of current cadets, graduates and some of the most important military and business leaders in the world.