Checkpoints Online
Checkpoints magazine is the Association of Graduates' signature communications piece. From its humble beginnings as a black and white news print in 1965 to the award-winning publication you are reading today, the magazine has evolved into a visual showcase of USAFA. Yet despite its evolutionary track across the decades, this publication still seeks the same objective that it did at the time of its inception: to tell the Academy and graduate stories.
View previous editions of Checkpoints Online ...
Watch videos and browse photo galleries from featured articles ...
Send us your feedback, photos and favorite recipes ...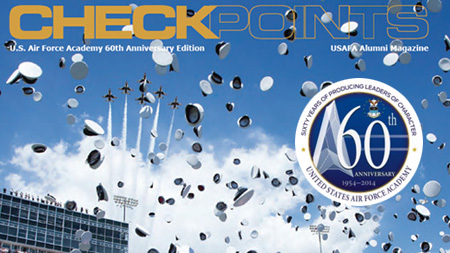 Read our special edition celebrating the Air Force Academy's 60th Anniversary ...
Become a member today and get Checkpoints digital four times a year!
Learn more about the award-winning Checkpoints magazine and the excellent staff that puts it together.
Get your company name and mission in front of current cadets, graduates and some of the most important military and business leaders in the world.